Flensburg hit top spot after victory against Elverum
While Flensburg had taken the two points on Sunday thanks to a narrow win in Celje, Elverum were looking for their first points in group A, after suffering defeat at home to Aalborg.
Things didn't go the way of the Norwegian side in the end though, despite an impressive resistance in the first forty minutes of the game. Flensburg were able to put their foot on the gas in the last quarter, and even crowned the evening with Goeran Johannessen scoring their 6000th goal in the Champions League.
• Flensburg are temporarily top of group A, with two wins in as many games, Elverum remain bottom, and are yet to register a point
• Goran Johannessen scored the German side's 6000th goal in the EHF Champions League
• Sigvaldi Gudjonsson (Elverum) was the game's top scorer with 7, Lasse Svan Flensburg's finest with six
GROUP A
SG Flensburg-Handewitt (GER) vs Elverum Handball (NOR) 26:19 (12:9)
After a first quarter that saw both teams closely matched, Flensburg pulled away on the scoreboard by making the most of their opponents' turnovers. The home team took the first two-goal advantage at 6:4 courtesy of a fast break by Goeran Johannessen.
Between the 16th and the 26th minutes, the visitors managed to score only once, while Flensburg seized the opportunity to push the ball forward at speed. With the break in sight, Anders Zachariassen converted his second shot to give Flensburg a four-goal cushion, but a last-gasp effort from Alexander Westby kept some hope alive for Elverum, who were only down by three at half-time.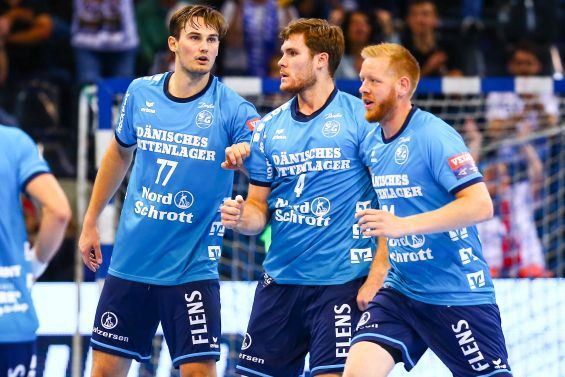 The Norwegian side certainly remained in the game in the second half. Between the posts, Thorsten Fries was stopping almost every shot while Flensburg, visibly losing confidence, began turning the ball over, and went over five minutes without a goal.
Trailing 16:14, Elverum even missed a huge chance to come back within one, before Johannes Golla gave Flensburg a four-goal lead with fifteen minutes remaining. Goeran Johannessen then scored the club's 6000th EHF Champions League goal in the 49th minute, while Torbjorn Bergerud in the Flensburg goal produced a string of stops, allowing his team to cruise to its second victory of the season.
Author: Kevin Domas / tm