Sporting "want to keep dreaming"
Sporting CP are looking for more historic achievements when they face Telekom Veszprém HC in the first leg of the VELUX EHF Champions League Last 16 on Sunday at 18:00 CET (live on ehfTV.com).

While Sporting are the first club from Portugal to reach this stage since the implementation of the EHF FINAL4 format in 2009/10, the clash with Veszprém will be even more special for one their key players.

Carlos Ruesga spent two seasons with Veszprém, from 2013 until 2015. After one year in Barcelona, the Spanish centre back arrived at Sporting in 2016.

Conquering many titles

In his two seasons in Hungary, Ruesga conquered many titles and also played the VELUX EHF FINAL4 twice.

"It was an incredible experience to play in Veszprém. For me it's going to be a special duel because it's the first time I'm going to play against them since I left Veszprém," Ruesga says. "I have very good memories and friends from my two seasons there."

While coach and squad have changed since Ruesga left, the club stays the same.

"They always have very ambitious goals, as they are one of the best teams in Europe and certainly one of the favourites to be in the EHF FINAL4," Ruesga says.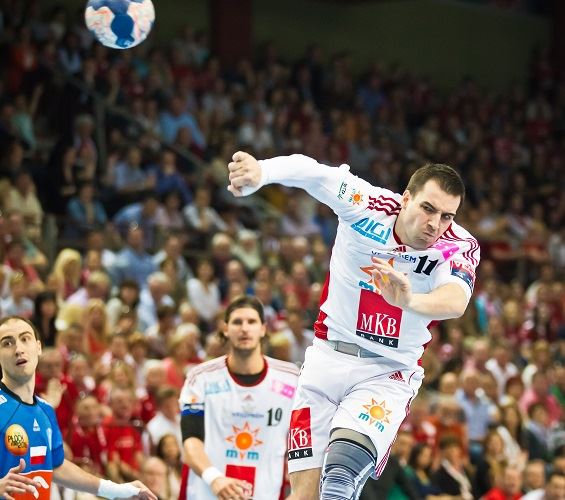 Sporting are looking forward to the clash with Veszprém.

"Everyone is eager and excited to play the Last 16," Ruesga says. "The club and the team have worked hard and really well lately to be able to enjoy great games like this one. Our fans also deserve it for their unconditional support. We want to keep dreaming."

Ruesga is aware that Veszprém start as favourites. The Hungarian side boasts a complete squad, with at least two strong players for each position.

"We know that they are the big favourites of this tie but in this first game we play at home and will try to surprise them," he says. "We will give the maximum to get a chance to beat them, but I'm aware that it is very difficult."

An incredible atmosphere

Sporting know of the importance of Sunday's first leg. The rousing support of the fans in their sold-out arena could make a difference, Ruesga expects.

"The Pavilion will be full and I have no doubt that our fans will show that they are the best in Europe," the centre back says. "The João Rocha Pavilion always makes the difference, but this Sunday is a special occasion. I'm sure that we will enjoy an incredible atmosphere."

The two-time national champions became the first Portuguese team to reach this stage of the competition in this format when they overcame Dinamo Bucuresti in the Group C/D Play-off.

Veszprém won their last match in the group phase against PGE Vive Kielce (36:35) and advanced to the Last 16 as the second-ranked team in Group A, four points behind group winners Barça Lassa and one point ahead of 2017 champions HC Vardar.

The return leg in Hungary will be played next week Saturday, 30 March.
Author: Tiago Nogueira / ew