Superheroes and big challenges appear in best quotes
Following many weeks of preparation, all 28 clubs in the VELUX EHF Champions League finally got to play their first match of the new season.
The first week has been full of high-intensity games and top-level handball. But players and coaches not only shone on the courts, they did a pretty good job talking about their matches as well.
Here are the top 5 quotes from last week:
5. Stefan Madsen, Aalborg Handbold coach:
"We are very happy about this victory. It was a fantastic start for us in this year's Champions League."
It was a successful comeback to the Champions League for Aalborg, as the Danish side easily won in Elverum on Sunday, 34:24. It earned Aalborg an early lead in Group A, based on goal difference, so coach Stefan Madsen could only talk about a "fantastic" weekend for his team.
4. Tomaz Ocvirk, RK Celje Pivovarna Lasko coach:
"We did not know what our level was compared to the other teams in the Champions League. So our goal was to put it all on the table, and we saw that we are here."
It is always hard to have an idea of where you stand prior to a new season, especially with such a young team as Celje's. But, looking at their one-goal defeat against Flensburg, the Slovenian side got conformation they are right up with the best once again.
3. Iker Serrano, Bidasoa Irun line player
"This away match was a big challenge for us and we could all see how hard the matches in the Champions League can be. For many of us this was a new experience."
The last time Irun played in the Champions League was in 1996, when the Spanish club reached the final a year after winning the trophy. After more than two decades, their return to the competition meant entering new territory - but they succeeded and came back from Cocks in Finland with the two points.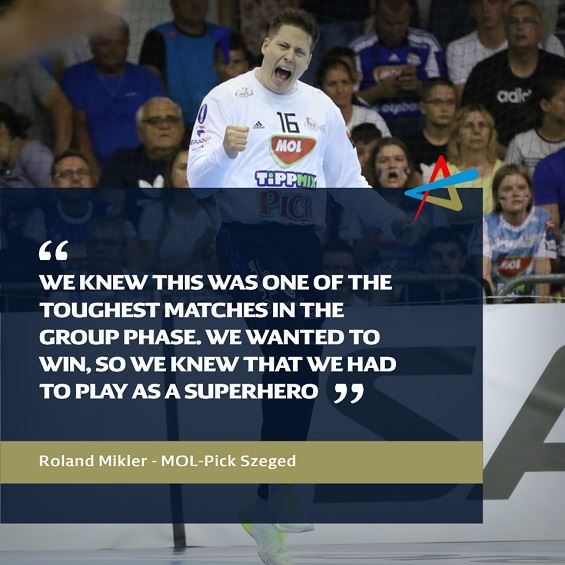 2. Andreas Wolff, PGE Vive Kielce goalkeeper
"I'm very satisfied with the draw – mentally, it feels like a victory for us."
The first Match of the Week lived up to its billing in Kiel on Sunday night, with Kielce making up a two-goal deficit in the dying moments of the game to snatch a draw. Alex Dujshebaev, who scored the equaliser, might have been the hero of the day but goalkeeper Andreas Wolff was another, in his first game against his former team.
1. Roland Mikler, MOL-Pick Szeged goalkeeper
"We knew this was one of the toughest matches in the group phase. We wanted to win, so we knew that we had to play as a superhero."
Szeged's 31:28 win against Barça on Saturday was one of the big upsets of the weekend. Goalkeepers Roland Mikler and Mirko Alilovic had impressive performances between the posts, with Mikler saving 12 shots, including three penalties. On Saturday, he really looked like a superhero to the Hungarian fans.
Author: Kevin Domas / ew