Alpla shock TATRAN to set up a decider against Sporting for Group Phase qualification
Alpla HC Hard defeated TATRAN Presov to book a place in Sunday's decider against Sporting CP after the Portuguese side survived a second-half comeback from Cocks of Finland.
2016/17 Men's EHF Challenge Cup winners Sporting CP became first Qualification Tournament finalist after beating Finnish side Cocks
Portuguese side looking to qualify for the group phase for first time since the 2001/02 season
Michal Kopčo scored six goals on his return to Presov, where he spent three years of his career
Austrian side Alpla HC Hard beat hosts TATRAN as they look to qualify for the group phase for the first time since 2003/04
Presov will not complete a hat-trick by making the group phase for the third time in a row
TATRAN v Cocks; Sporting CP v Alpla HC Hard on Sunday
QUALIFICATION TOURNAMENT – DAY 1

Sporting CP (POR) v Cocks (FIN) 31:27 (18:14)

Sporting CP beat Cocks by four goals despite Gintaras Savukynas' men fighting back in the second half from a 18:14 half-time deficit as Sporting survived the scare to confirm their role of favourites.

Game movie
Both teams had their ups and downs in the tense match as Cocks suffered between the 8th and 14th minutes of the first half, while the favourites from Lisbon struggled at the beginning of the second half. The game was tied up until 5:5 as the Cocks then failed to score for six minutes, allowing Sporting to develop a lead, which they maintained until half-time.

The Cocks rose-up in the second half thanks to their biggest star, left-back Nico Rönnberg, who scored nine goals, but Sporting killed the game off in the final 10 minutes with their effective fast-break goals.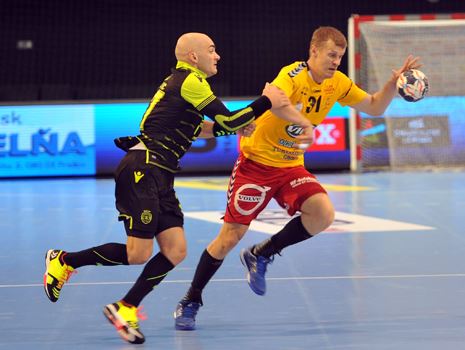 Emotional return
It was an emotional return to Presov for Sporting line player Michal Kopčo as their former player scored six against the team with whom he first tasted the VELUX EHF Champions League with.

The co-operation of Sporting's backcourt, especially line players Kopčo and Tiago Rocha, was crucial, highlighted by their combined 13 goals in the match. Frankis Carol Marzo was the best Sporting scorer with eight goals.

Warning
The biggest weapon of Hugo Canela's team from Portugal was their aggressiveness in the defensive areas as the Cocks had problems with the quick counter-attacks of Sporting following numerous technical faults in attack, but they still managed to find enough answer throughout the game to stay in touch, but when they did, Matej Asanin stepped in to give Sporting breathing space.

Despite the victory, the slip-ups in the second half will set alarm bells ringing for Canela as they prepare for their crunch match tomorrow.

Visible progress
The Finnish side showed exactly where they are no longer handball minnows. Improving year-by-year an experience like this can only help them in their development and their visible progress from last year only proves they are on the right track - Europe will hear much more about them in the future.

TATRAN Presov (SVK) v Alpla HC Hard (AUT) 25:26 (12:13)
Alpla HC Hard qualified through to Sunday's final against the odds, beating Slovakian champions TATRAN Presov 26:25 in what was a game full of fantastic drama.

Battling hard
Both teams fought shoulder-to-shoulder for most of the game with Alpla Hard HC up by just a single goal at half-time, although they went into the changing room disappointed after letting slip a three-goal lead.

The second half was a true rollercoaster as Presov took the lead in the opening minutes, but could not consistently press their opponents. Alpla profited from their great defensive work and the inability of the hosts to surprise them in the final phase.
Preparation the key
The 'Red Devils' from Lake Bodensee in Austria were very well prepared for Presov. Their 6-0 – and alternating with a 5-1 - defence led by Domagoj Surac worked perfectly against TATRAN.

This, combined with a lack of pressure from the backcourt and minimal wing play were the main reasons Presov struggled in attack with Oliver Rabek hugely missed.

Alpla coach Petr Hrachovec claimed his team spent two months preparing for this match and the results were clearly visible on court.

Extra man risk
The Sporting CP players, fresh from their earlier win, were spectators of this match, looking to spy on their future opponents throughout the second half and they witnessed a super dramatic finish.

Peskov fired in three goals early in the second half to give TATRAN coach Slavko Goluža reason for joy and at that moment it looked like Presov's quality had prevailed. Yet Hrachovec's men had plenty to offer as extra time was on the horizon for a long time.

After Hrachovec pulled out his goalkeeper, his side played with an extra man, using two line players as Alpla risked it all to play for the win inside the 60 minutes – and it worked, sensationally.
Huge upset

Inside the home arena with a fantastic atmosphere both teams seemed inspired to produce a memorable performance but Alpla were simply the better team and deserved their final berth.

Goluža spent the majority of the match jumping around the sidelines, giving instructions and motivating not only the players but also the crowd, yet his side missed the chance to level the score in the final seconds as they misplaced a pass and the Austrian team burst into joy. Marko Tanaskovic was their top scorer with seven goals in the game.
Author: Tomas Cuncik/AMC