Flensburg and Aalborg take opening away wins
Celje and Flensburg played a real thriller on Sunday in their opening VELUX EHF Champions League game of 2019/20. Both enjoyed a three-goal advantage at one point in the game, but the German club managed to turn a deficit around to grab their first victory of the season.
Meanwhile, in the Scandinavian derby between group A newcomer Elverum and returning team Aalborg, the predicted close game lasted for 20 minutes before Aalborg used their experience to cruise away to a 10-goal win.
Johannes Golla was the best scorer of the game, while Josip Sarac netted five times for Celje
Goeran Johannessen and Magnus Rod were key for Flensburg, scoring a combined six goals in the second half
It is the third win for Flensburg at Celje in six Champions League seasons
Goalkeeper Kristian Saeveraas was critical for Allborg's win, with 13 saves
Aalborg's Mads Christiansen was the top scorer with eight goals
GROUP A
RK Celje Pivovarna Lasko (SLO) vs SG Flensburg-Handewitt (GER) 24:25 (12:13)
Having lost in Celje last season, Flensburg were aware of the danger their hosts posed and started the game with the foot on the pedal.
Benjamin Buric stopped a couple of shots in the goal while Johannes Golla and Goeran Johannessen were working perfectly together at the other end of the court. After a fast break by Magnus Jondal, Flensburg were ahead by three at the 11th minute (7:4).
A much-needed time-out for Celje saw the hosts turn things around. In less than four minutes, the two teams were level at 8:8. Celje's fast breaks proved efficient and at half-time, Flensburg were only ahead by one, 13:12.
Celje came back stronger from the dressing room than their opponents. Josip Sarac scored three times in five minutes to give his team its first three-goal advantage at 18:15 after 39 minutes.
Flensburg's experience came to bear at that point. Relying heavily on Johannessen and Golla, Flensburg came back into the game and then took a lead. Buric locked the door behind his defence while Magnus Rod and Johannessen, who scored five in the end, netted at crucial times to help Flensburg win by one.
Celje coach Tomaz Ocvirk said after the match: "We did not know where we are before the start of the season regarding other teams in the Champions League. So our goal was to put everything on the table and we saw that we are there. We made one or two technical mistakes too many, and the two two-minute penalties some 10 minutes before the end turned the match around in favor of Flensburg."
Flensburg coach Maik Machulla said he was "very happy" with the win.
"We knew that in this hall it would not be easy to play and Celje is always a very tough opponent," he said. "We played good, aggressive, smart in the attack. The decisive point was our change of defence which brought us a victory here."
Elverum Handball (NOR) vs Aalborg Handbold (DEN) 24:34 (12:18)
The first 20 minutes were typical of a Scandinavian game, meaning a lot of goals and high-speed handball – but neither side was able to break away from the other.
Lukas Sandell and Magnus Fredriksen kept things going offensively for the hosts, while Aalborg stayed in touch thanks to Mads Christiansen's efficiency. The new recruit scored four goals in the first half alone, peppering his game with a couple of assists as well.
When Kristian Saeveraas took over from Mikael Aggefors between the visitors' posts, Aalborg almost immediately broke away on the scoreboard. Scoring two straight fast breaks, they took a four-goal advantage, 14:10, in the 22nd minute.
Sebastian Barthold scored his fifth goal on the siren for the visitors to go back to the dressing room leading by six.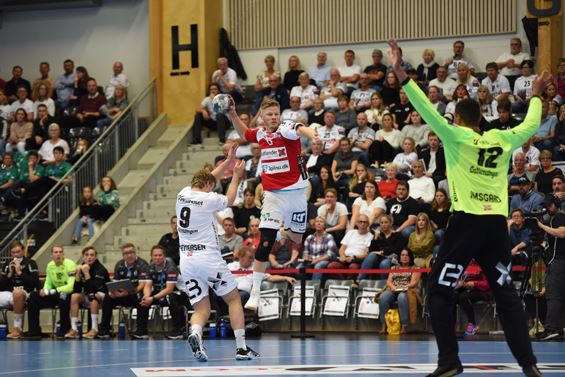 Aalborg did not lose their grip on the game in the second half. Elverum only managed to reduce their deficit to four, thanks to two consecutive goals by Alexandre Blonz.
It did not take long for Aalborg to get their act together again, and the Danish side cruised away to victory, making the most of their opponents' turnovers. With five minutes still to play Aalborg had a cushion of 10 goals and were certain to bring the two points back home.
Aalborg coach Stefan Madsen attributed the win to his team's superior physical power.
Elverum right wing Sigvaldi Gudjonsson said he was sure they could play better.
"We knew from the beginning that this was going to be a very tough game," he added. "I think we played well in the beginning, but we lost the game after not running home fast enough in the turnovers."
Author: Kevin Domas / jh