Early group D top clash in Denmark
It will be an early top match in group D of the VELUX EHF Champions League on Sunday when GOG and Chekhovskie Medvedi meet.
Both teams won their first match, and are the two only teams with maximum points. GOG won 33:24 away against IFK Kristianstad, while Chekhovskie Medvedi can look fondly back on their 25:23 at home against Orlen Wisla Plock.
In group C, we may well see a clear divide between the top three and bottom three sides after just two rounds, should Bidasoa Irun and Sporting CP make use of home advantage to build on their opening victories.
Wins for both sides will see them join Sävehof on top of the group with four points, but it is far too early to be making such assumptions and the three away victories in round 1 suggest nothing is certain at this level.
GROUP C
Bidasoa Irun (ESP) vs Cocks (FIN)
Saturday 21 September, 16:00 CET, live on ehfTV.com
first game at this level in Irun since the 1996 final second leg, a 23:23 draw against Barcelona

Cocks have yet to win a match in the top flight away from home

the hosts picked up a midweek league victory against Benidorm

Cocks have yet to throw-off their domestic campaign, having to endure a 10-day wait to avenge their opening round defeat to Sävehof
Sporting CP (POR) vs Tatran Presov (SVK)
Saturday 21 September, 19:30 CET, live on ehfTV.com
the sides met twice in last season's group phase with both sides grabbing a victory away from home

Sporting's two-goal loss to Presov at home turned out to be a victory of sorts as it was enough to see them qualify from the group when both sides were level on points

there is an unusually strong French influence for both sides this season with two players in the Presov squad, Ognjen Djeric and Titouan Afanou Gatine, while coach Thierry Anti and wing Arnaud Bingo represent Sporting

Sporting enjoyed a handy 38:19 win against Avanca to maintain their perfect domestic record, while Presov have not played since their opening round loss to Bidasoa Irun
IK Sävehof (SWE) vs HC Eurofarm Rabotnik (MKD) 25:24 (10:15)
Wednesday 18 September, match review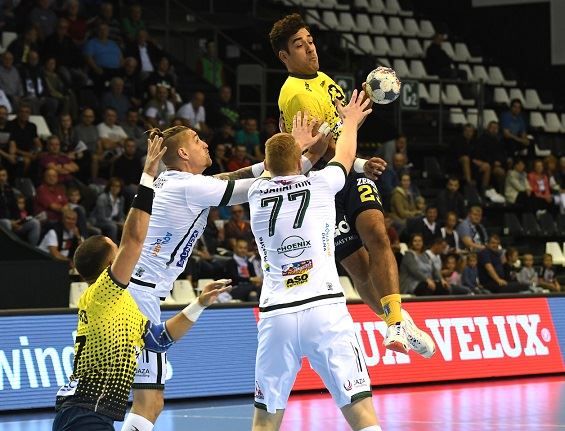 GROUP D
Orlen Wisla Plock (POL) vs Kadetten Schaffhausen (SUI)
Saturday 21 September, 15:00 CET, live on ehfTV.com
Schaffhausen are a bit better off than their Polish opponents, as the Swiss champions drew 28:28 at home against C.S. Dinamo Bucuresti in their first group match

Wisla Plock opened their group phase campaign by losing 23:25 away to Chekhovskie Medvedi

Wisla Plock goalkeeper Ivan Stevanovic will be up against his former teammates, as he represented Schaffhausen last season

Plock had a good dress rehearsal, winning 28:23 away in Szczecin in the Polish Superliga on Tuesday

Schaffhausen's confidence was probably not boosted by their 30:24 away defeat to HC Kriens Luzern in the Swiss league on Wednesday
GOG (DEN) vs Chekhovskie Medvedi (RUS)
Sunday 22 September, 15:10 CET, live on ehfTV.com
Both teams had a win in their opening match. GOG won as clearly as 33:24 away against IFK Kristianstad, while Chekhovskie medvedi can look back fondly on their 25:23 victory at home against Orlen Wisla Plock

The last time Chekhovskie medvedi visited GOG, the Danish team won 32:26 in the EHF Champions League 2004/05 Group Phase

Chekhovskie medvedi's fifth goal on Sunday will be their 5,000th in the Champions League

Both teams have fresh national league wins to boost their confidence. GOG won 33:30 at home against Aarhus Handbold during the week, while Chekhovskie medvedi had a 39:27 victory in their home game against Caustir Volgograd
C.S Dinamo Bucuresti (ROU) vs IFK Kristianstad (SWE) 28:25 (13:10)
Wednesday 18 September, match review
Author: Chris O'Reilly, Peter Bruun / cg, ew