Barça edge closer to quarter-final berth with win over Kristianstad
A strong outing in both attack and defence saw Barça earn another compelling win against Kristianstad, after the 44:25 drubbing in the first game between the two sides.
This time, there was no record loss for the Swedish side, but Barça's dominance was clear, as the Spanish side virtually sealed the first place in the group, with their win
Barça are four points ahead of Veszprem, but they do not hold the tiebreaker, as their 31:28 home win was cancelled by the 29:26 loss last week
The Spanish team need just a point from their games against Montpellier and Löwen if Veszprem win both their games
Line player Kamil Syprzak and winger Aleix Gomez Abello were Barça's top scorers, with six goals apiece
GROUP A
Barça Lassa (ESP) vs IFK Kristianstad (SWE) 43:26 (21:12)
A win would have seen Barça virtually secure first place in the group, their tenth success of the season helping them edge closer to grant them a quarter-final ticket.
Their run of nine consecutive wins may have been stopped last week in Veszprem, but the Spanish side found new motivation and a run of five goals from five different players put them ahead 5:1 against Kristianstad, virtually forcing the Swedish side to play from behind the entire game.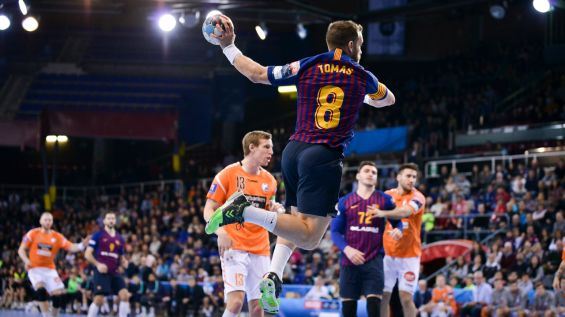 It was the defence that really worked hard, while the attack continued to be superb, as their opponents struggled to put goals past Gonzalo Perez de Vargas, with Kristianstad having a meagre 33% shot efficiency over the first ten minutes.
It went from bad to worse for the guests, as Barça ran riot in the dying minutes of the first half to jump to a 21:12 lead.
As coach Xavi Pascual changed the lines, there was no shortage of goals from the free-flowing Barça attack.
Only three outfield players failed to score for Barcelona, as the gap continued to rise. A dominating, yet balanced performance saw the hosts protect their home court once again, cruising to a 43:26 win.
Kristianstad's hopes of progressing to the next phase rely solely now on winning their two remaining games against Vardar and Brest, as they are two points behind Brest and Montpellier, respectively. On the other hand, Barça will play both Montpellier and Löwen with a point required to secure first place.
Lars Olsson knew his side were in for a tough day, but still felt disappointed, "Congratulations to Barça Lassa. Thank you for the lesson. We are disappointed of our performance today. We knew that Barça is maybe the best team in the world at that moment. They are fantastic in fast-break and they have a lot of good players. We had a match plan and we lost that. Of course we needed to keep it, but if we do that today, it's very hard against Barcelona. They are good, but we're disappointed".
Barcelona coach Xavi Pascual commented on the desire shown by his team, "At the beginning of the match we showed that the game was very important for us, because we're fighting to take the first group position and I'm very happy with my team. During all the game we were playing 100% and this is our way. We have to maintain this rhythm, and now I want my team to rest a little bit because on Tuesday we'll have a hard game in the Liga Asobal".
Author: Adrian Costeiu /at