Consistency earns Ungureanu and Schmid February awards
At this stage of the season, the room for error is growing smaller with every single game and a vintage performance from a player can tilt the scales in the favour of the team he or she plays for.
This was certainly the case in February, with teams failing to reach their full potential, yet recording some memorable games to help their cause for a trophy challenge in Europe.
One of the most consistent performers in the VELUX EHF Champions League, Swiss back Andy Schmid, got the nod ahead of Raul Entrerrios in the men's category, while CSM Bucuresti goalkeeper Paula Ungureanu did enough to impress the international journalist panel to win her first EHF Player of the Month award.
Second award for Schmid
34-year old Schmid has become a staple of efficiency for Rhein-Neckar Löwen, as they hit a rough patch at the end of 2017.
The German champions relied heavily once again on Schmid, as they finished the group phase with a three-game unbeaten streak, including a 30:30 draw against Nantes in the final round.
The Swiss playmaker scored 16 times in three games in February, adding another five goals to his tally against Nantes, on 3 March.
Schmid, who scored 75 times in the first 14 games of the VELUX EHF Champions League, is placed second on the top scorer list, only five goals behind PSG left wing Uwe Gensheimer.
It is the second EHF Player of the Month title received by Schmid, after he also won in November 2016.
Schmid was among the top two in the eyes of all journalists in the EHF panel as he comprehensively won the award, ahead of Raul Entrerrios and Melvyn Richardson.
EHF Player of the Month – February 2018: Male
1. Andy Schmid (Rhein-Neckar Löwen / SUI)
2. Raul Entrerrios (FC Barcelona Lassa / ESP)
3. Melvyn Richardson (Montpellier HB / FRA)
4. Matthias Musche (SC Magdeburg / GER)
5. Dika Mem (FC Barcelona Lassa / ESP)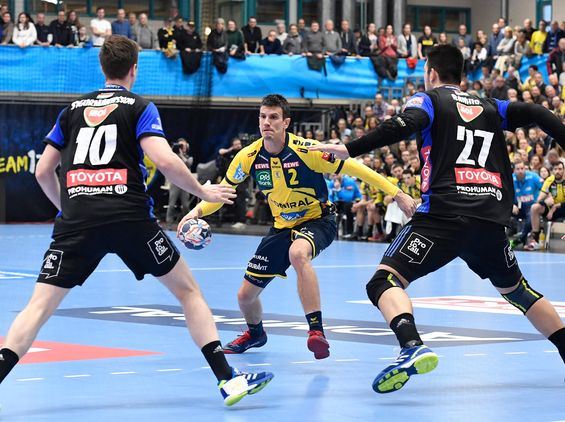 "More focused and motivated"
CSM Bucuresti may not have ticked all their boxes in February, losing an important game against Györ and drawing at home against Rostov, but Paula Ungureanu has been in majestic form.
The 37-year old goalkeeper, who is in her second season with the Romanian powerhouse, has kept the opponents at bay with her impressive array of saves.
"I am truly happy that I received this title, it means that what I did was good. I am even more focused and motivated to achieve something great this season. But this means I have to work and try even harder to play well," said Ungureanu.
Ungureanu is hitting her top form, while CSM are still trying to find their footing in this season, being an integrant part of the defensive core.
"The goalkeeper role is as important as any player on the court. You will not win games with good individual performances, you need a team, especially on defence. We proved that we can be better and I am thankful to play in such a great team, with great teammates and great staff," said Ungureanu.
The Romanian star has also carried her superb form in March, with a dizzying 18-save display against FC Midtjylland last Sunday, as CSM managed to snap a two-game winless streak with a 29:24 win.
Ungureanu, who won her very ever EHF Player of the Month title, had the upper hand in a contest which went down to the wire with Iveta Lutumova, the top goal scorer of the Women's EHF Champions League and winner of this award in November/December 2017.
But the CSM star is only thinking about winning her first Women's EHF Champions League trophy.
"I will do anything to win the trophy. It is the trophy I wanted to win since I started handball. I want to win it so much," concluded Ungureanu.
EHF Player of the Month – February 2018: Female
1. Paula Ungureanu (CSM Bucuresti/ ROU)
2. Iveta Luzumova (Thüringer HC / CZE)
3. Cornelia Nycke Groot (Györi Audi ETO KC / NED)
4. Ana Gros (Metz Handball / SLO)
5. Daria Dmitrieva (Lada Togliatti / RUS)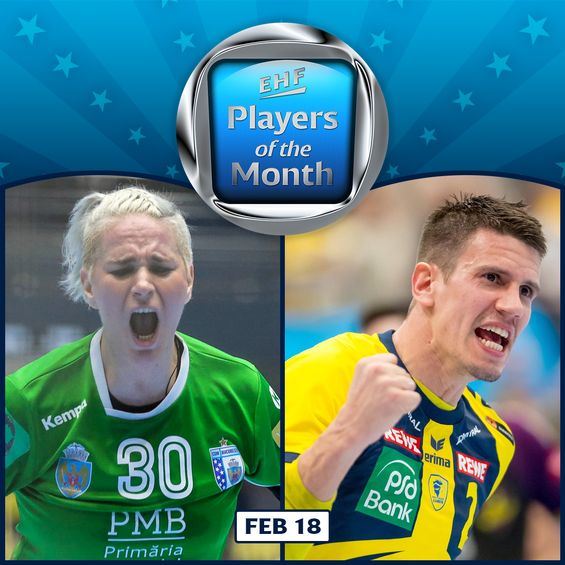 Author: Adrian Costeiu / cor