Vipers ready for first Champions League adventure
A day after defeating Belorussian champions HC Gomel, Vipers Kristiansand cruised into the Women's EHF Champions League Group Matches with a 42:14 win over Croatian champions HC Podravka Vegeta on Sunday.
Earlier, Gomel took third after defeating Kastamonu Belediyesi GSK 29:28.
Vipers meet Buducnost, Metz and Bietigheim in Group D

Like Bietigheim, Vipers are debutants in the Champions League

Podravka are entering the EHF Cup in Qualification Round 3

Kastamonu enter the EHF Cup in Qualification Round 2, Gomel are proceeding to Round 3
GROUP 1 FINAL:
Vipers Kristiansand (NOR) vs HC Podravka Vegeta (CRO) 42:14 (22:6)
Vipers are ready for their first Champions League adventure in history after a convincing performance in the Kristiansand Aqarama this weekend. After defeating HC Gomel 43:19 on Saturday, the Norwegian side won even bigger against Podravka in front of 1648 spectators on Sunday.
The Vipers defence had a solid grip on Podravka's attacking players, and shots were often saved by Katrine Lunde and Eline Fagerheim in the Vipers goal.
This resulted in wave after wave of fast breaks towards the Podravka goal, and in the established attack, Vipers were effective from all angles and positions, too.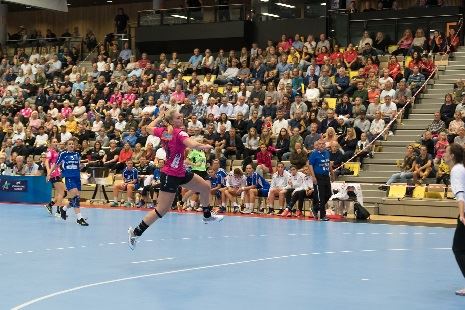 The first eight minutes were fairly equal with Vipers only leading by one or two goals, but as the home team increased their advantage from 5:4 to 10:4, the decision already seemed to be on its way.
The last doubt about the outcome vanished as Vipers turned 10:5 into 20:5, and being 16 goals up at half-time, the Norwegian team continued to cruise towards the huge win throughout the second half.
In EHF Champions League Group D, Vipers will be meeting Buducnost from Montenegro, Metz Handball from France and debutants Bietigheim, who won the German league title last season.
Podravka will continue their European campaign in the EHF Cup, which they are entering in Qualification Round 3.
GROUP 1 PLACEMENT MATCH 3/4:
HC Gomel (BLR) vs Kastamonu Belediyesi GSK (TUR) 29:28 (13:13)
HC Gomel took third place in the group in Kristiansand after a thriller against Kastamonu Belediyesi. The 43:19 defeat against Vipers Kristiansand in the semi-final on Saturday did not seem to have ruined Gomel's self-confidence.
Anyway, the Belorussian champions had the better nerves at the end.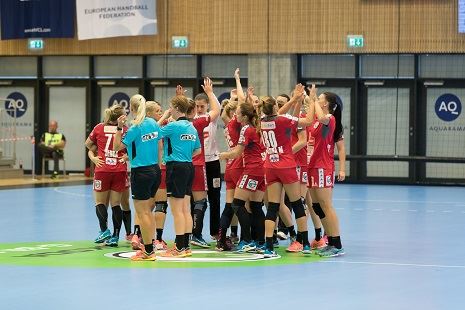 Kastamonu coach Hakan Günale only had 11 players at his disposal but his team was still able to follow their opponents all the way.
Gomel were leading by three or four goals several times but Kastamonu kept coming back before the match was decided in the final minutes.
Kastamonu will continue in the EHF Cup with a meeting against the winner of Super Bera Bear of Spain and Colegio de Gaia of Portugal.
Gomel will enter the EHF Cup competition for the third qualification round.
Author: Peter Bruun / ew