Martin enjoys winning debut with Rostov as Kobenhavn edge out Brest
Rostov-Don were seen as favourites in their opening Group B game at home against IK Sävehof (SWE), and the Russian champions lived up to expectations by winning 30:21.
Ambros Martin won his first game as Rostov coach in the Women's EHF Champions League; Rasmus Overby debuted at this level in charge of Sävehof
Anna Vyakhireva was Rostov's top scorer with seven goals; Emma Ekenman-Fernis netted five times for Sävehof
Brest are yet to claim their first points at this level
Jenny Alm scored seven goals for Kobenhavn, both Ana Gros and Sladana Pop-Lazic netted nine times for Brest
GROUP B
Rostov-Don (RUS) vs IK Sävehof (SWE) 30:21 (15:11)
The first goal of the match was scored by Sävehof's Tilda Olsson, but it was the only time in the 60 minutes when the visitors were in front.
Rostov somewhat struggled to find their rhythm in the opening minutes, but gradually started to pull clear thanks to a few fast breaks and Galina Mekhdieva's saves.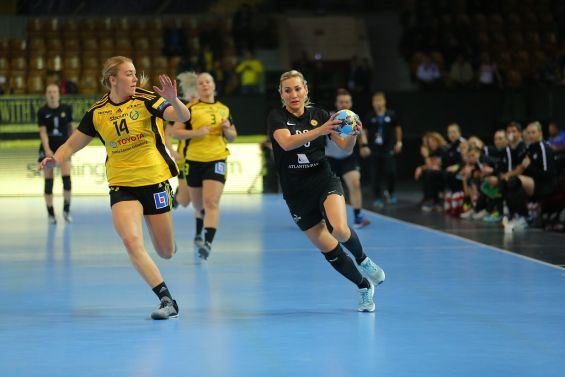 A four-goal lead at the break (15:11) left Rostov feeling quite confident, and the home side improved further early in the second half.
Mekhdieva continued to impress in goal and Sävehof were unable to score until the 39th minute – by that time, the Russian team had increased the gap to 20:12. After the match Mekhdieva humbly thanked her team and coaches, "We played good in defence, thanks to my partners, they helped me to guard the goal. Thanks to our coaches, they prepared us very well."
Anna Vyakhireva set the tone in Rostov's attack, and she finished the game as the top scorer with seven goals.
The outcome was clear long before the final buzzer, and while the game somewhat levelled off in the last 15 minutes, Rostov ultimately clinched a clear and deserved victory.
Victorious coach Ambros Martin praised his team for how evenly they played in the two halves, "It's never easy to start a European season at home, and we were a little bit nervous at the beginning of the game. But then we showed a better game. Two times are almost similar, we scored and missed approximately the same amount of goals. It means a stable game. I want to congratulate my team with the victory and to thank our fans for the support."
Rasmus Overby was full of praise for the group of players that had beaten his side, "Congratulations to Ambros Martin. You have a very good team of world class players. Also we did not succeed to stop Anna Vyakhireva."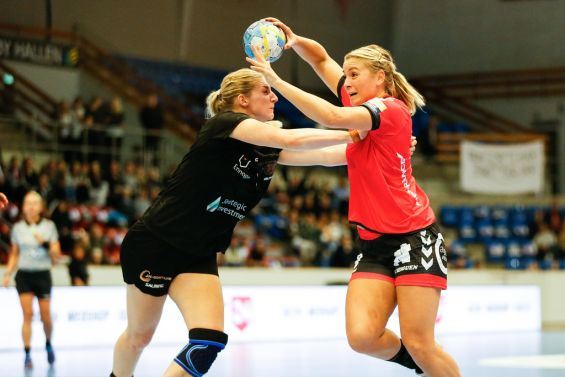 Kobenhavn Handball (DEN) vs Brest Bretagne Handball (FRA) 32:28 (16:18)
Having bolstered their squad in the summer, Brest Bretagne Handball hoped to claim their first ever points in the Women's EHF Champions League after six defeats in their maiden campaign last season.
But although two Brest players had a solid impact with nine goals each, Kobenhavn Handball had more power and ultimately claimed a 32:28 win
The first half saw an exciting and up-and-down game. Jenny Alm's early impact propelled the home side to a 4:1, then a 7:4 lead.
Yet Ana Gros, who had joined Brest from fellow French side Metz in the summer, helped her new team to turn the tide. The Slovenian right back scored eight goals from all angles before the break.
Brest drew level, and later had a 5:0 run between the 20th and 26th minutes, moving the score from 11:11 to 16:11. However, Kobenhavn stood strong, and their aggressive game helped to reduce the gap to just two goals by half-time.
The pendulum continued to swing in the second half, as first the home team came back to 21:20, and a few minutes later Brest were already up 24:23.
But the Danish side had more strength left, and a good defence helped them to dominate in the last 15 minutes. Three minutes from time, Kobenhavn pulled clear at 31:27 to seal the victory.
Kobenhavn head coach Claus Mogensen was over the moon with the result, "It was an overwhelming experience, the team performed even better than what I could have even dreamt of. I am both proud and impressed by the focus that the players were able to have during the game."
Mogensen wanted to hail the team ethic, but could not help but single out a couple of his stars, "It was a team accomplishment, but I have to say that the team captain Jenny Alm was outstanding, and so was Emily Sando."
Author: Sergey Nikolaev/at