10 goals from Gros lead Metz to third straight win
With 10 goals, right back Ana Gros made a significant contribution as Metz Handball earned their third win in succession in the Women's EHF Champions League 2017/18 Group Matches. But the French favourites' victory was not without some trouble from Buducnost in the first half.

• Ana Gros scores 10 goals on 12 attempts for Metz
• Cristina Laslo tallies seven at 100% for Buducnost, Xenia Smits does the same for Metz
• Metz are alone on top of Group D with six points

GROUP D
Metz Handball (FRA) vs Buducnost (MNE) 27:23 (13:10)

With great support from German left back, Smits, who scored seven times, Slovenian international Gros was a constant threat to the otherwise solid and physical Buducnost defence on Saturday evening.

The visitors were well in the match however, especially in the first half. Buducnost were leading 8:7 and 9:8, before Metz finished the first 30 minutes stronger.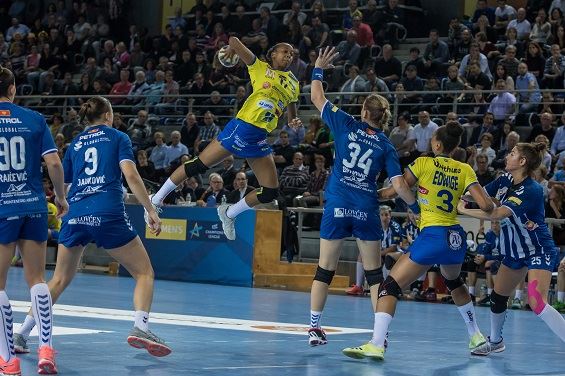 Metz seemed to be heading for an early decision at the start of the second half, as they increased their three-goal half-time advantage to eight, at 19:11.

Buducnost managed to get back in the game to a certain extent, but their comeback only brought them as close as three goals, at 24:21. In the last minutes, Metz left no doubt.

21-year-old Romanian back Laslo scored seven goals on seven attempts for Buducnost, who are on two points after the first three group matches.
Author: Peter Bruun / cg