FTC remain Vardar's only hunter
Thanks to their second straight win, 29:25 against Thüringer HC on Sunday, FTC-Rail Cargo Hungaria are only two points behind the unbeaten leaders in Women's EHF Champions League Group C, Vardar Skopje, as the group phase has reached its half-time mark.
THC missed too many chances to upset the favourites and take the points on their home court.
Iveta Luzumova scores 10 to lead the top scorers ranking with 31 goals

Spanish back Nerea Pena nets nine times for FTC

FTC line player Danick Snelder takes two points from her former club
GROUP C
Thüringer HC (GER) vs FTC-Rail Cargo Hungaria (HUN) 25:29 (15:14)
After taking the lead in the Bundesliga on Wednesday, THC started confident in their second straight Women's EHF Champions League home match.
Thanks to Beate Scheffknecht, the German runners-up were ahead by 6:3 before FTC found their rhythm. But the Hungarian side were ahead only twice (at 12:11 and 13:12) before the break, with the hosts leading 15:14, despite a strong performance of Spanish back Nerea Pena.
Boosted by their fans, Thüringer HC remained in the lead before Laura van der Heijden helped FTC to turn the match around. Her goals paved the way for a 22:18 lead in minute 43.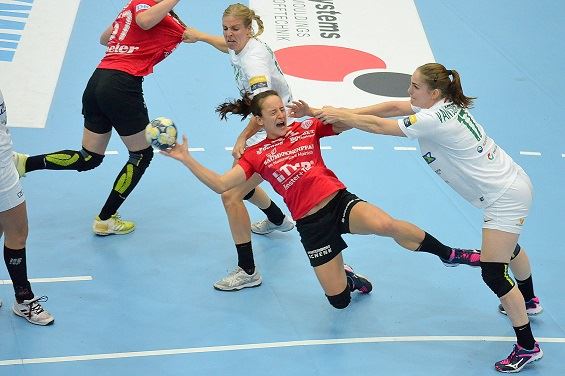 As the hosts missed too many chances in that crucial period, FTC seemed to be on the winners' way – but the German team hit back again.
Iveta Luzumova was unstoppable and scored goal after goal. She was, together with goalkeeper Dinah Eckerle, the main factor why THC came close again at 25:24.
But when goalkeeper Blanka Biro saved two wing shots in a row from Kerstin Wohlbold two minutes before the end with the score being 27:24, the match was decided.
THC coach Herbert Müller's final timeout came too late to grab at least one point as the time was ticking against the hosts.
"I feel like we were at the same level but we didn't have the energy in the second half to keep up with them," Müller said after the match. "The guests used their class and we faltered because of our own mistakes."
His FTC counterpart, Gabor Elek, said his team "were prepared for a huge battle. It was a great atmosphere in the arena. I wish THC all the best but we want to win the second game against them as well."
Author: Björn Pazen / ew