Bietigheim beat Vipers for historic victory
On their third attempt, SG BBM Bietigheim have clinched their first ever Women's EHF Champions League win.
Mainly benefiting from their opponents' mistakes, the German champions defeated another debutant in the competition, Vipers Kristiansand, by 29:24.
Kim Naidziniavicius scored nine goals from 10 attempts for Bietigheim

Metz lead group with six points, three other teams all have two now
GROUP D
Vipers Kristiansand (NOR) vs SG BBM Bietigheim (GER) 24:29 (8:16)
It didn't take Bietigheim very long in the match to become aware that this could be the day of their first ever Champions League win. Hosts Vipers were only able to follow them until 4:4. From then on, the visitors were completely dominating.
A multitude of technical mistakes and missed opportunities by Vipers gave Bietigheim chances for fast breaks many times. They went ahead 9:4 and 13:7 before taking an eight-goal lead (16:8) with them to the dressing room.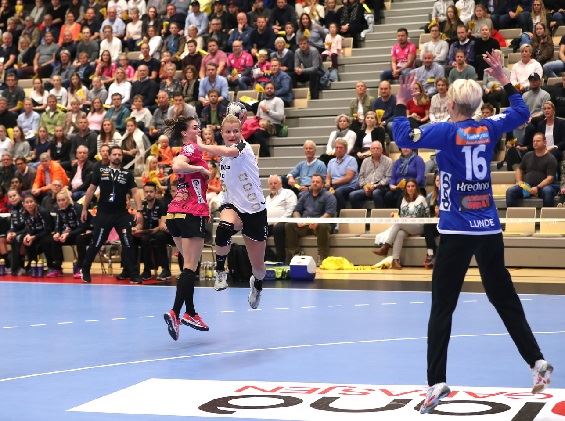 It was a more determined Vipers team who came out for the second half, and they soon reduced the deficit to four goals (19:15).
But Vipers were not able to eliminate their mistakes while Bietigheim kept benefiting from them. Also, Dutch goalkeeper Tess Wester did brilliantly for the German team.
Soon, the visitors increased their lead again - up to nine goals - before Vipers closed the gap a little bit without threatening the guests' victory.
Author: Peter Bruun / ew