Thüringer HC have home advantage for qualification tournament
Herbert Müller, the Romanian born coach of Thüringer HC, has his tenth season coaching in the EHF Champions League ahead of him.
He has qualified for the tournament three times with his former club 1. FC Nürnberg Handball, and six times with his current side.
But for the first time since he moved to THC, they have not directly qualified for the group phase. Rather, they need to get through group 2 of the qualification tournament, as rivals SG BBM Bietigheim finally managed to snatch the domestic league trophy, breaking THC's six year winning-streak.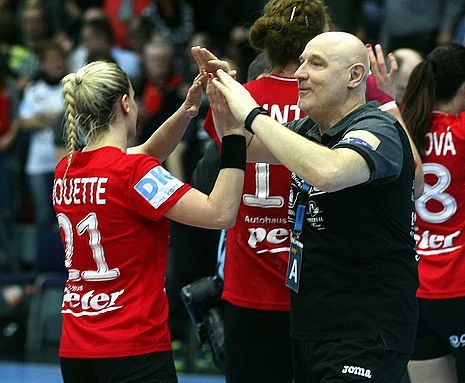 Thanks to the financial support of a local sponsor, Thüringer HC had the chance to host this qualification tournament next weekend in Nordhausen.
In the first match, the German runners-up face the Spanish champions Mecalia Atletico Guardes, while Champions League record-holding winners Hypo Niederösterreich lock horns with new Swedish champions H 65 Höörs HK.
"Thanks to our Champions League experience and the home advantage we are the favourites, and we to take this role well," Müller says, full of confidence.
He needs to integrate six new players into his squad, as older players give way to the younger generation.
Kerstin Wohlbold, centre back and team captain, is the last "survivor" of the players who started the mission with Müller at THC back in 2008. She had already been playing in Nürnberg under the helm of the Müller brothers (Helfried Müller, Herberts brother, is THC's assistant coach).
"Kerstin is the clear leader of our team, a 100 percent role model for the young players, the most important player on court," Müller praises the German international.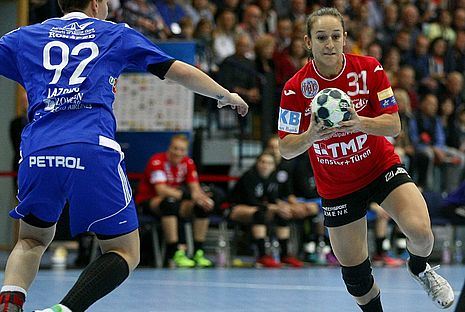 Next to Wohlbold will be some faces which she knows from the national team: Saskia Lang, Anne Hubinger and Alexandra Mazzucco, who joined THC from bankrupt local rivals HC Leipzig, and Nina Schilk who joined from TSV Bayer 04 Leverkusen. In addition, the two young players Gordana Mitrovic and Josefine Huber arrived from HSG Blomberg-Lippe.
The biggest loss for THC is former team captain and Austrian international Kathrin Engel, who retired. Also, three key players from last season, Romanian Crina Pintea, French Manon Houette and Hungarian Szimona Planeta transferred to French clubs (Issy Paris Handball, Metz Handball and Chambery Savoie Mont Blanc Handball, respectively).
"The integration of the newcomers is running smoothly from a handball point of view and already perfectly in terms of atmosphere and mentality," Müller praises his new arrivals.
The coach is looking forward to an early challenge:
"The first official matches already decide the rundown of the remaining season. We are ready to take this challenge - and we know that our red wall of fans will boost us to the limit in the arena. As the EHF Champions League is the greatest of all competitions, we will do everything to be part again."
The winner of this qualification tournament will join the top group with Vardar, Larvik and FTC.
Müller analysed the Spanish Super Cup, and was quite impressed of THC's first opponent:
"They are fast, they have an offensive defence - a typical Spanish club, we have to be aware of."
One of his players, Spanish international Macarana Aguilar, will assist the coach in the preparation thanks to her knowledge of the Spanish league.
For the other match, Müller expects Höör to be favourites to progress to the qualification tournament final:
"They really impressed me by leaving the strong Sävehof team behind in the Swedish league."
Though Müller parallel is the head coach of the Austrian women's team, and knows many of Hypo's players, he does not expect them to be stronger than Höörs.
One Hypo player will likely get a warm welcome in Nordhausen - goalkeeper Verena Flöck, who had played for THC some years ago.
Author: Björn Pazen/kc